SIMULATOR K-FLEX
FOR DEVELOPMENT OF KNEE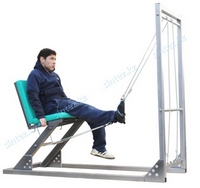 The" K-FLEX" knee development simulator is a device designed for the rehabilitation and development of the lower limbs, allowing stimulating the muscles, including the quadriceps and knee flexors, with the help of strengthening exercises.
The innovation of this device is that it uses elastic resistance, which is different from other types of resistance.
K-Flex is easy to use and has unique characteristics compared to traditional simulators:
1. It allows to achieve smooth motion due to the specific resistance achieved by means of elastic resistances, and increases with the flexibility of elastic resistances.
2. Excellent modularity in terms of workloads, which can be easily achieved by adjusting the amount of elastic resistances.
3. Ability to perform exercises at high speed.
Indications for use of the simulator
The simulator is designed for complex rehabilitation of the knee joint in the open kinematic linkage.

Innovative design of the simulator allows the muscles of the lower limbs to do exercises through the use of controlled elastic force in the open kinematic linkage.

With K-Flex, you can easily switch from light loads with low joint impact (initial stages) to heavy loads and high angular velocity exercises at the final stage and to full recovery.

K-Flex allows you to stimulate knee extension and flexion with isometric and isotonic exercises by programming a series of exercises and repetitions. The device can also be configured to allow patients to make gestures at maximum speed.

K-Flex allows you to perform concentric and eccentric "high-speed" exercises. But in a first place it reproduces a functional movement like an alternative.
Technical specifications:
| | |
| --- | --- |
| Length, not more than | 2136 mm |
| Width, not more than | 785 mm |
| Height, not more than | 1622 mm |
| Weight of the simulator, not more than | 105,9 kg. |
| The maximum static load on the axis of the roller support, not more than. | 150 kg. |