Rehabilitation simulator LEVITAS PRO1 / PRO2
DEVICE FOR SLING THERAPY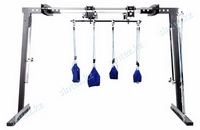 The unique design of a solid metal frame and a specially designed, sliding guide system for the suspension system provides precise and easy control and adjustment of the device.
Advantages for the doctor: saving time and energy, resistance, the ability to simultaneously carry out traction therapy, adjusting the distance between the doctor and the patient, helps to diagnose
Advantages for the patient: ease of movement, without pain, guarantee of safety and relaxation.
Levitas offers two types of suspension:
full, in which the whole body is suspended
partial, in which certain parts of the body are suspended.
Levitas uses the following types of power:
compression
stretching
side force.
The device allows producing:
active exercises with support;
active exercises with support and resistance;
active resistance exercises;
self-performed exercises;
additionally, can be performed for exercises and relaxation techniques, stretching, strengthening of stability and muscle coordination and restoration of joint mobility;
stretching or strengthening of specific muscles or muscle groups;
stretching of the spine, cervical joints, shoulder joints or pelvic joints, stretching of the waist;
stabilization of the spine and large joints, depending on the disease or injury;
improving the mobility of the spine and chest;
relaxation and pain reduction.
Set:
straps for the chest

straps for pelvis

elastic straps for limbs (thigh, shin, arm, forearm)

elastic straps for feet

straps for the head

universal straps for hands, feet, head

ankle cuff

thigh cuff

cuff

straps for pelvis

the straps for the chest

cables for hanging 2m

cables for resistance training

scales 0.5,1.0,1.5, 2.0 kg.
Indications:
"LEVITAS" can be used for patients with disorders in the Central nervous system, with disorders in the peripheral nervous system, in cases of joint diseases, after injuries and operations on the spine and limbs, for children with postural problems, as well as in cases of various forms of cerebral palsy (infantile cerebral palsy), atrophy, muscle weakening (from +1 to +2), damage to the joint surface delayed bone consolidation, muscle weakening (up to +2 to +3), osteoarthritis, limited joint mobility.