LOKOSTEP
Locomotor system "LOKOSTEP" for restoring walking skills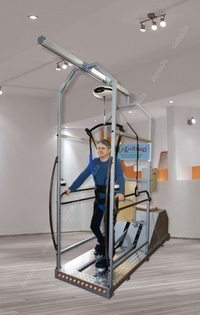 «LokoStep» is an automated gait system that is an active medical device for the rehabilitation of the lower limbs of patients with gait disorders. The movable supports are equipped with restraints for the patient's legs, they are driven by electric motors, which are controlled by electronic devices. The system is equipped with a lifting mechanism that allows the patient to move from the wheelchair to the device, which aims to facilitate the placement and fixation of the patient, giving him an upright position on the device (exercises take place in a standing position) and support during exercise. The equipment is operated using buttons on the control panel. The locomotor system allows verticalization and restoration of motor function in patients with diseases of the musculoskeletal system, nervous system in outpatient and inpatient medical institutions with departments, rehabilitation beds, as well as in sanatorium-type and rehabilitation centers.
Indications for use:
for patients after various pathological conditions, accompanied by impaired walking function, such as paraplegia due to spinal cord injury;
for patients after a stroke;
for people suffering from Parkinson's disease with symptoms of hypokinesia, muscle weakness;
with polyneuropathy of various origins (toxic, metabolic, autoimmune, such as Guillain-Barré syndrome) with manifestations of flaccid paralysis;
for patients with cerebral palsy, in which movement disorders are accompanied by spastic muscle tension, leading to deformation of bones and joints, curvature of the spine;
in patients with progressive muscular dystrophy, accompanied by weakening with wasting, muscle atrophy;
joint pathology;
muscle weakness after prolonged immobilization;
recovery after surgical interventions on the joints.
Available in 2 versions for adults and children, has different dimensions.