PARALLEL RAILINGS
SUPPORT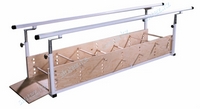 The parallel railings are made of galvanized steel frame and wooden platform. The height of the railings is adjustable. In addition, the parallel railings are equipped with horizontal barriers of 7 cylindrical beams, which can be inserted at different heights and at different distances. The height can be adjusted using galvanized steel railings.
The simulator is a universal device that allows you to perform walking exercises with obstacles and without obstacles, to refresh walking skills and General physical development.
Indications for use:
Motor rehabilitation (physical therapy).

Neurological disorder.

Fitness.

Sport.

Posture awareness.
Parallel railings with obstacles are used in physical and rehabilitation training of the musculoskeletal system.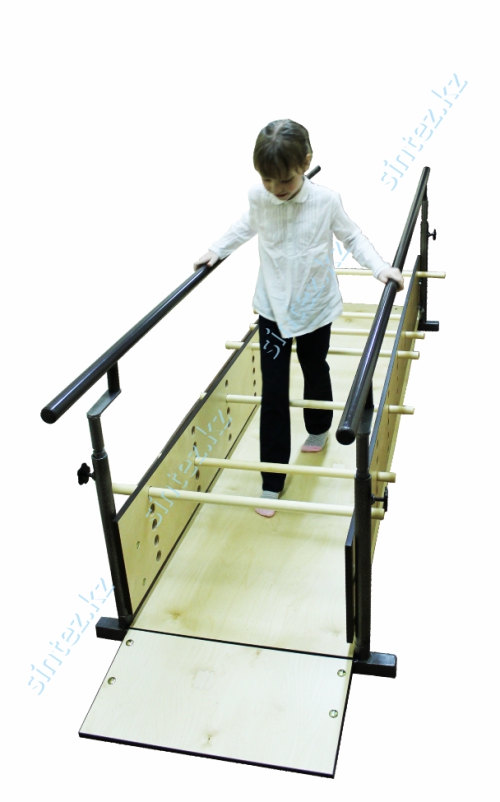 Technical specifications:
Name of parameters

Value

Value ranges

Weight of the simulator,
not more than

85,3 kg.

Length, not more than
3021 mm
Width, not more than
810 mm
Obstacle pitch
340 mm

340mm

Obstacle height:
minimum
maximum

90 mm
290 mm
90 mm
140 mm
190 mm
240 mm
290 mm
Height of handrails:
minimum
maximum

700 mm
1170 mm
700 mm
790 mm
880 mm
970mm
1060 mm
1170 mm

The distance between the handrail:
minimum
maximum

310 mm
810 mm

от 310 mm
до 810 mm