СО2
Dry carbon dioxide bath in a bag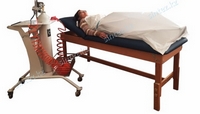 The installation consists of a movable carriage on which a carbon dioxide cylinder is installed. A heated gas reducer with a pre-installed high-pressure hose is attached to the cylinder. A high-pressure gun with a transition hose (drain hose) is attached to the second end of the hose. A power supply unit is connected to the heating element of the gas reducer. The installation is characterized by mobility (availability of wheels). The procedure is carried out in special sealed disposable bags, thus the procedure becomes more aesthetic and does not require additional cleaning from the staff.
It gives a possibility of several procedures at the same time.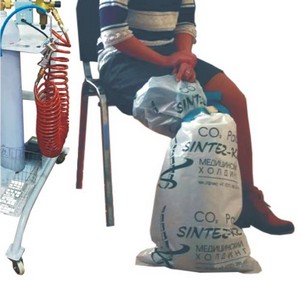 treatment for limbs.
Procedure description:
The patient places the upper body (except the head) in a special disposable bag filled with pure C02 gas;

The main physiological reaction to the procedure is the expansion of all blood vessels and capillaries, simultaneously with the increase of oxygen in the blood, and thus the muscles, skin, all organs and glands are heavily supplied with oxygen;

During the procedure, it is recommended to put on relaxing music;

Recommended total number of treatments-10-15 dry baths C02;

Duration of the procedure: from 20 minutes to 60 minutes, depending on the patient's condition and characteristics of his body.
Indications:
Ischemic heart disease (this type of therapy is applicable for any heart disease, since there is no undesirable water pressure, which is in water procedures).

Hypertension, atherosclerosis.

Varicose veins.

Thrombophlebitis (under the influence of C02 there is a decrease in viscosity, which is the prevention of blood clots).

Chronic nonspecific lung diseases.

Bronchial asthma (Eliminates bronchospasm, improves breathing, suppresses cough and shortness of breath).

Metabolic disorders, including diabetes, obesity, cellulite (vascular distention improves the process of blood supply to human muscle tissue, which in the interaction of insulin with its receptors leads to a sugar depression in blood).

Stroke.

Neuroses.

Sleep disturbance.

Erectile dysfunction.

Chronical pain syndrome.

Skin diseases, including atopic dermatitis, psoriasis.

Mechanical skin damage.

Recovery from injuries and operations.

Diseases of the musculoskeletal system.

Strengthening of connective tissue.

Restoration of functional state at physical and nervous overloads.

Chronic fatigue syndrome.

Sports rehabilitation.

Increase endurance.

Improvement of cellular nutrition.
Contraindications:
Dry carbon dioxide baths are absolutely contraindicated in skin inflammation, subcutaneous tissue, vessels in the place of the intended application, hyperthyroidism, extensive myocardial infarction, pregnancy, cancer, in the climacteric period.

Relatively contraindicated in varicose veins, bleeding, fear of the patient.
Impact:
Thorough blood supply to the skin, muscles and all organs of the body, including glands and brain, well-oxygenated blood.

This highly effective procedure strengthens health, increases life optimism and vitality, it is an ideal tool for improving health and harmonious state of mind and body.

Bath with C02 in a bag is a therapeutic procedure based on new scientific research on the effects of carbon dioxide on humans.

The aim of the procedure is to improve all bodily organs and glands, which leads to the general strengthening of the body, strengthening the immune system and self-healing properties of the body.
Delivery set:
High pressure hose (air spiral hose with fast-make up connection)

Carbon dioxide pressure reducer with heating (universal gas flow regulator with heating);

Transition hose for connection to therapeutic bags;

The container of 10.0l of liquid C02 - 2 pcs.;

High pressure gun (blow-off gun with extended nozzle);

Power supply;

Movable carriage;

Full immersion bag 90/180 cm (100 pcs);

Bag for limbs 45 cm (100 pcs);

Fixation belt (2 pcs).
Principle of action:
Carbon dioxide, entering the blood, causes a vagotonic reflex, provokes increased breathing, irritating the vascular-motor and respiratory centers. With irritation of the vasomotor centers, there is an expansion of the vessels not only of the skin, but also of the coronary vessels of the heart. The effect of carbon dioxide stimulates all types of metabolism, primarily by increasing blood circulation. The body as if tries to compensate for the flow of carbon dioxide (more oxygen to absorb, increase blood circulation, so as not to suffer from the "enemy"-carbon dioxide). The "reverse effect" is at the bottom of it.
Carbon dioxide enters through the skin, creates a depot in it, and causes a long-term effect on the vessels and nerve endings. This leads to an acceleration of blood flow, greater blood oxygen saturation.
The advantage of a dry bath is that the total load on the body is less: no warm water - so there is no hydrostatic and temperature load so this bath can be taken even after a heart attack, in the early stages of rehabilitation, as well as after coronary artery bypass surgery.
Technical specifications:
Overall dimensions of the unit:
Length, not more than

845 mm

width not more than
500 mm
- height not more than
1150 mm
Installation weight:
-with 1 cylinder C02 (not more)
42 kg
- in a package with 2 cylinders (not more)
130 kg
Supply voltage (single-phase alternating current)
220V ± 10%
Characteristics of the medical environment
of carbon dioxide
gas mixture - concentration 100% with error (minus 10%)
Temperature
10-35 °C
Electric heater voltage
24/36 V
Power consumption (max)
300 W
Medical carbon dioxide is odorless and tasteless, non-flammable, odorless and colorless. It is a natural component of the air and it is not qualified as dangerous.