KANGAROO
HOME VERTICALISER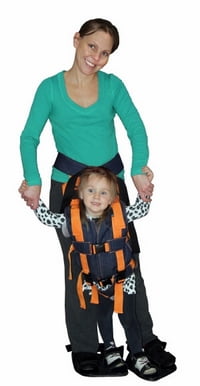 A mobile device that allows children with musculoskeletal disorders to stand and walk with the help of an adult.
Size S
Suitable for kids and small children with growth from 80 to 125cm and slender figure.
Size M
Suitable for children and young children with growth from 115 to 140cm (if adult can hold it).
"Kangaroo" can discover the world for your child. This is a discovery for many children with neuromuscular disorders.
Some of them were able to stand up and hug their younger brother or sister for the first time.
Some of them waved to neighbors with their first steps down their street.
And some for the first time went to the Playground hand in hand with his best friend.
They made small steps, but for some of them, it means the world.
It consists of three parts: a Belt for an adult, a jumpsuit for a child, a sandal.
The design is solid from breathable fabric, can be washed in the washing machine.
Leading doctors approved "Kangaroo" because "Kangaroo" creates many opportunities.
Shoe size
Shoe – adult size

From 36 to 42
adjustable fastener
Shoe-children size S
from 22 to 30-го
Shoe-children size M
From 30 to 36
| | |
| --- | --- |
| | |
| | |