PARALLEL RAILINGS WITH SUSPENSION
TYPE 1/TYPE 2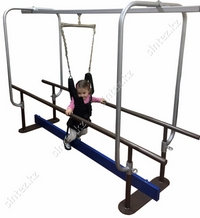 In case of insufficient development of leg mobility or complete lack of leg mobility, it is necessary not only to develop it, but also to intensively form the upright posture skills. In turn, to ensure the upright position it is necessary to develop the processes of verticalisation of the head and body.
The development of verticalisation consistently includes the stage of movement with additional means of support or rack. This stage of verticalisation should be developed using parallel railings.
During training in parallel railing, fear of falling is an additional cause of patient's rapid fatigue. Taking this into account, the company "Medical holding Sintez-kz" LLP has produced a special parallel railings with a supporting suspension system.
The construction of the railings consists of a supporting suspension system that helps and facilitates the process of walking and there is no effort on the wrist joint.
This implementation of the device by unloading the wrist joints and additional support improves the stability of the patient and increases the rehabilitation effect. The patient spends less effort to hold the vertical position of the body and thus makes more effort to move the legs. Walking time increases.
Railings are manufactured in 2 configurations, for children Type 1 and for adults Type 2.
Technical specifications:
Configuration
Children's, Type 1

Name of parameters

Value

Value ranges

Handrail height:
Minimum
Maximum

483 mm
683 mm

483 mm
550 mm
617 mm
683 mm

The distance between the handrails

464 mm

-
Configuration
Adult, Type 2

Handrail height:
Minimum
Maximum


600 mm
900 mm

600 mm
700 mm
800 mm
900 mm

The distance between the handrails

514 mm
-