SAND TABLE
Sand table for drawing with sand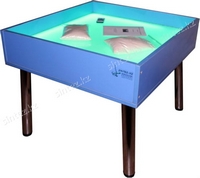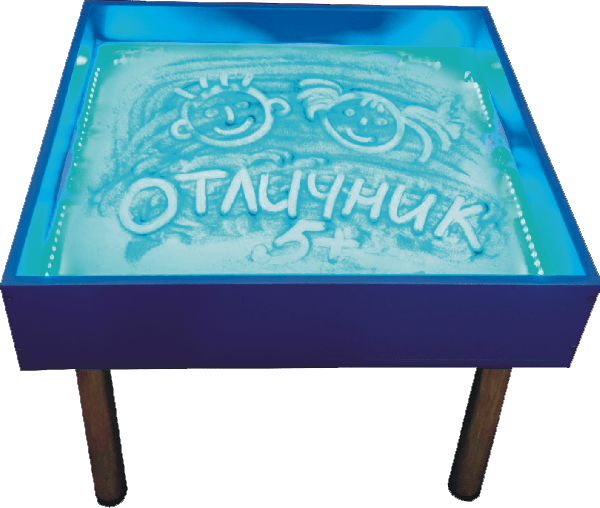 Light sand painting table is designed for relaxation, tactile and visual stimulation, development of imagination and creativity. It will help to develop cognitive processes (perception, attention, memory, imaginative-logical thinking, spatial imagination), creativity, to form communication skills, to train fine motor skills of hands.
This does not require additional devices, it is enough to use imagination and in front of you there are pictures painted with your fingers.
Games on the sand do not require specific knowledge and skills - it's simple, habitual, natural and pleasant!
Insufficient concentration, impulsive behavior, impatience - all that may be corrected with the help of classes using sand. Structured drawing with fingertips helps to embody mental images and makes the learning process more effective. Drawing various figures, children learn new movements and learn to interact with each other. Many playing exercises arouse children's interest in work and mobilize their internal reserves. Children achieve their goals gradually, step by step, making a lot of effort.
On the glass surface of the table cleaned sand with a thin layer is poured. On the sand there are pictures. The resulting lines of the picture are obtained by the light module painted in different colors. The color of the lines is regulated by the remote control. The table is equipped with a power supply and remote control.
Sand table is made in the form of a table with a frame of plywood or laminated chipboard. The basis for working with sand is armored glass, which is located above the false bottom of the table. Illumination of the working surface of the table is carried out due to LED tape, the color change of which is carried out from the remote control. Table legs are made of wood or profiled metal.
Indications for use stand
Development of child's creativity.

Teaching young children of new skills;

Work with patients with cerebral palsy;

Work with patients with peripheral nervous system disturbance;

Work with patients after spinal cord or brain injury;

Work with patients with functional disorders of the body in patients with stroke and/or infarction;

Recovery of patients with spinal injuries;

Recovery of patients after serious craniocerebral injuries;

Skill recovery in patients with rheumatic diseases;

Use in adaptation programs for people with mental illness, for children with abnormalities and behavioral disorders;

Work with patients with orthopedic diseases;

Work with patients with coordination dysfunction, inability to concentrate, concentrating defect, reactions, balance, fine motor disorders;

Refreshment of skills in patients with gerontological diseases, such as Parkinson or Alzheimer disease, with multiple sclerosis.