RACK FOR STANDING
VERTICALISER TYPE 1/TYPE 2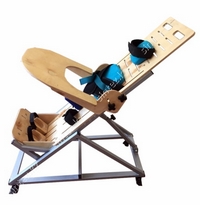 Rack - is a rehabilitation technology. Rack-verticalizer with a reverse slope, allows the patient to be in a position from strictly horizontal to strictly vertical with a rigid fixation of the selected position. The standing frame with the supporting bed in full growth for children and adults. It allows you to gradually transfer the patient from a horizontal to vertical position, to develop a sense of balance, to adapt the internal organs, bone and muscle systems to a new position in space.
It is recommended for patients with the following diagnosis:
Cerebral palsy-various forms;
Spina bifida;
Brain and spinal cord injury-various etiologies;
Muscular diseases-various forms;
Genetic syndromes occurring with paresis of limbs;
After craniocerebral trauma, spinal cord, spinal cord and lower limbs injury.
Distinctive features:
Verticalizer with back support for children of secondary school age with cerebral palsy and other pathologies in which the child cannot sit and stand independently.
Positions: horizontal, lying at an angle, half-standing, standing
Frame material-environmentally friendly plywood board.
Wheelbase-metal pipe, 4 wheels, brakes.
Soft foam elements are covered with vinyl leather.
Belts-leather fabric.
Mounts for foots, adjustable in width.
Locking straps for the shins, adjustable in height.
Fixing pelvic strap, height adjustable.
Fixing chest strap, adjustable in height.
Abductor removable, adjustable in height and width.
Removable pillow under the back with 4 cm thickness.
Removable headrests adjustable in height and width.
Removable table for meals and classes.
Technical specifications:
Size

Type 1-115 (children)

Main specifications:
Frame length, cm

95

Frame extended length, cm
119
Frame width, cm
45
Bed length, cm
115
Bed width, cm
37
Height in vertical position, cm
124
Max. child's height, cm
115
Max. the child's weight, kg
45
Size

Type 1-140 (children)

Main specifications:
Frame length, cm

113

Frame extended length, cm
140
Frame width, cm
56
Bed length, cm
137
Bed width, cm
46
Height in vertical position, cm
152
Max. child's height, cm
140
Max. child's weight, kg
70
Size

Type 2 -180 (Adult)

Main specifications:
Frame length, cm

161

Frame extended length, cm
200
Frame width, cm
70
Bed length, cm
195
Bed width, cm
60
Height in vertical position, cm
207
Max. child's height, cm
180
Max. child's weight, kg
110